On Page SEO: On Page SEO Step By Step Guide
On-site On-page SEO Steps and Factors - On Page Optimization Checklist - Website Optimization Techniques
On-Page SEO Optimization Steps: Proven Techniques, Tips & Strategies
On-site search engine optimization techniques help businesses earn more free search engine traffic through achieving page one Google rankings on multiple keyword phrases. In website optimization, or in the on page optimization process, you'll need to write about the topic comprehensively, in-depth, uniquely, publish supplemental content, AND add new value to the conversation already available on the internet. Prove to people in writing that you're the expert in that subject! This is hard, time-consuming work, but, in the majority of cases the best quality content wins, especially if paired with authoritative incoming links (ie. linkable content.)
► Valuable increased website traffic may be earned from optimizing web page content in a hierarchical structure; which means organizing website content similar to an outline ie. highly competitive head keywords near the top and less competitive long-tailed keyword phrases embedded in supporting content underneath it.
► Ranking highly-competitive high-volume head keywords requires these advanced SEO strategies due to continual increasing global, national, and local competition in every business niche!
Pick a head keyword or two with higher monthly search volume for your title tag. Add multiple lower monthly search volume secondary keywords into supporting paragraph sub-titles or sub-headings (eg. H-tags), keyword phrases, and long-tailed keyword phrases using different variations of keyword order to improve readability and generate more page impressions. Semantic Keyword Research can help you surround your head topic with relevant subtopics and subject matter to add authenticity.
On Page SEO Best Practices – How To Do On Page SEO Step By Step
Keyword research and analysis. Launch keyword research software tool. Generate keywords, sort, and analyze keywords. Search for 10+ phrases that have good monthly USA search volume with lower competition, that include variations of keyword order arrangement, versus depending upon outdated On Page Optimization Steps such as exact keyword repetition and keyword density analysis. Keyword research that returns valued long-tailed keywords is the best market intelligence to give you a niche competitive advantage
Focus On High-Commerciality Keywords. Focus upon ranking for keyword phrases with high commercial intent (ie. sales transactions) versus generic information. You want keyword traffic that increases sales from real buyers! The ultimate keyword portfolio possesses high monthly USA search volume, low competition, and high cost per click dollar or pay-per-click dollar amounts in Google Adwords, which means you have to focus upon a specific marketing niche. Work on ranking high commercial intent keywords using publicly available historical data gathered from others' paid search campaigns using free online website analysis tools such as Semrush.com, Keywordspy.com, and Seorch.eu.
Integrate Essential On-page SEO Mechanical Elements. Title tag and header tags for paragraph subheadings (eg. H1, H2, H3), increase user experience benefits by parsing page content into distinct sections, add image alt tags and image title tags, use user-friendly URLs, integrate keywords and long-tail keywords, add internal linking.
Add Cornerstone Content. Beef-up your content writing and web page optimization by greatly expanding in-depth on a specific topic on one or two pages on your website, through cornerstone content. Make sure your web page is 1000-1500 words in length and include all on-page SEO steps. You can also add in frequently asked questions (FAQs) which can generate huge amounts of qualified traffic from people asking questions. Group content into related sections with themed paragraphs.
Improve the Title Tag and Description Metatag. A well-written Title Tag or page title greatly increases Google search results click-through rates, delivering more traffic if the corresponding page conveys genuine value, which results in a lower bounce rate. Avoid duplicate title tags and stay within the recommended character limits – title tags under 60 characters, meta descriptions under 300 characters.
Write Improved Headlines, Sub-titles, Sub-headings, Headings Tags. Improve H1, H2, H3, H4 tags or heading tags text above paragraphs to include different variations of the head keyword found in the page title tag. Decide exactly how many H-tags or paragraph sections of content are to be used on the page. In addition, for images on the page use descriptive alt-image alt-tags accurately describing visual content.
Keyword Choice List – Pick Your Battles. Select individual keyword phrases, supporting semantic keywords, long-tailed keyword phrases, and LSI keywords that will provide more depth of coverage towards the overall page topic or paragraph sub-topic.
Judiciously Integrate Keywords & Raise Reading Level of Content. Advance the subject by adding value in your area of expertise. To get all the benefits of On Page SEO steps place head keywords early and prominently in the body copy. Thoroughly covering keyword topics is a crucial component in the SEO process. Usually ten or more keyword phrase variations supportive of the topic can be integrated into web pages with total word count of 500+ words. Strive to make content more interesting by publishing more sophisticated vocabulary topics, increase complex words usage and reading level yet keep it legible and include semantic keywords and rich media for improved quality signals. Avoid a lot of stop words like "you". The idea is to communicate an enhanced never-before-seen message. For added search engine rankings value organize messages into content silos which leads to the best website structure and information architecture to enhance user experience (UX).
Additional SEO Copy Writing. Adding more content could be necessary in order to increase the content topical coverage, or to support the integration of 10+ keyword additions. Longer in-depth content with more words per page, say 500+ to 1500+ words (see cornerstone content above) in content length develops the topic more thoroughly and increases the probability of ranking on multiple keywords. Oftentimes you'll get more benefit from improving the quality and content quantity for existing website pages versus publishing new blog posts or web pages. Generally, web pages have more strength to rank compared with blog posts depending upon how the article is distributed, promoted, and linked-to internally.
Understand Differences Between Organic SEO – Local SEO – and Technical SEO. In Organic SEO your site is competing nationally against ALL websites on your business topic in your country ie. USA. In local SEO you're competing in your chosen geographical area as acknowledged in your Google My Business profile (without sound organic SEO you have no chance at Local SEO Rankings), Technical SEO refers to technological issues present that are holding you back from rankings eg. broken links, duplicate content, inappropriate header response codes, spam incoming links etc. For your local market add local search marketing content including local business schema markup and NAP consistency.
Stylize The Content. Make web pages easier on the eye making content scannable and readable through bolding text for emphasis, adding italics, or adding different colored text and relevant links to make the page more interesting looking aesthetically, use attractive font combinations and correct spacing dimensions.
Add Visual Content, Multimedia, Images, Embed Videos. Videos enhance user experience and improve website performance. Add photos with captions, useful diagrams or charts, graphs and statistics, info-graphics, or embed Youtube videos or Vimeo.com videos to increase customer engagement for ways to reduce bounce rates. Take image optimization steps to minimize file size and maintain quality image displaying.
Responsive Web Design + Secure Web Sites, SSL Certificates. Beyond making sure you have a responsive website design, convert or migrate your website to a Secure Website Design for added encryption and security by adding SSL Certificate (Secure Socket Layer) credentials which means converting to https:// versus http:// protocol because it's reported that 70% of Google's Page #1 search results are https:// protocols. The https:// protocol does require a web hosting upgrade and SSL certificate which are an increased cost, but worth it. Also make sure your web host keeps server speed or web page load speed under 2 seconds for home page speed rendering.
Create Main Spreadsheet Document URL Map – Keep Good Records. In a spreadsheet repository document collect the URLs of the pages to be optimized which establishes the URL Map. At a minimum the URL Map includes the home page, main services hub page, and the supporting services sub-pages to be optimized. The idea is to map keywords (keyword mapping) to specific pages to keep things straight and organized, and provide a place to add-in documentation regarding which web pages you want to rank for specific keywords to prevent keyword cannibalization between website pages, and in addition to document On Page SEO changes when implemented. On new web pages, have your keyword in linkable static URL permalink structure which means use absolute links versus relative links (eg. use the complete exact url not just the file name). Experiment, test, document, then review Google Analytics metrics after 1 week.
Conduct Internal Linking to Distribute Link Equity. Drive internal links to the most important pages directing internal page rank flow from the home page into key internal pages. Add deep linking or deep links between blog posts and related web pages. Interlink web content using natural sounding link anchor text, avoiding link anchor text over-optimization. Fix broken links.
Submit XML Site Map – Submit to Fetch as Google. Refreshing XML sitemaps identifies recently edited pages for Google to crawl. Submit recently edited pages to "Fetch as Google" in Google Search Console. In addition, on your website use absolute URLs versus relative URLs. Use breadcrumb navigation and a HTML site map.
Make Further Adjustments, Refinements and Tweaks for Readability. Circle back to crawled pages in a week or two, after Google has crawled or spidered the page, cached the page, and actually added the new page content into their index. Review and evaluate measuring Google Analytics data for new page impressions attributed to edits and modifications. Watch for new Google keyword ranking momentum. The indexing and ranking process could take 2-4 weeks depending upon visibility and incoming links.
Install Outbound Links – External Linking. In the body of content, link to outside authoritative citation sources or independent research, citing references for improving user experience, adding authenticity, and as a relevancy signal for the page. Don't hog link juice – be a participant in the web community and link out!
Conduct Blogger or Influencer Outreach, Content Promotion, or Link Building. Distribute and promote the finished product. Use social media sharing. Distribute the content to your email subscription list. If your site has good web visibility and domain authority the page can immediately begin attaining rankings from search queries. With good user experience and low bounce rates Google will deliver even more future natural search engine traffic to the page.
Ongoing SEO. Reviewing Google Analytics data in future weeks provides new keyword ideas from SEO Queries data to create new content further drilling down to the granular content level. Keep making the page better – measure and refine. More effort proofreading and expanding on the theme can increase conversions.
How To Do On Page SEO Checklist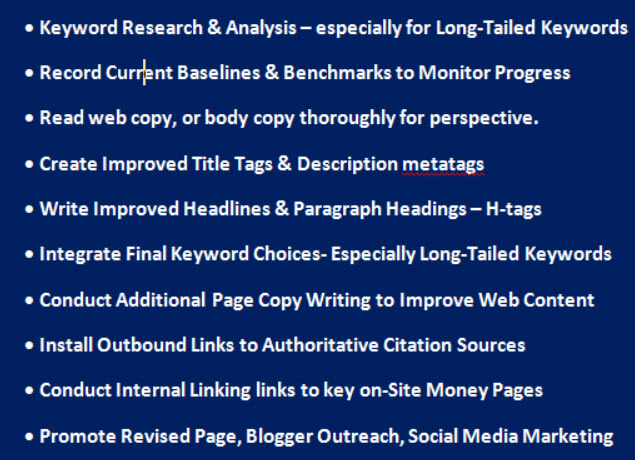 On Page Optimization Process: Words of Wisdom
Business owners wanting to know how to optimize a website, whether it's DIY SEO, or whether they're outsourcing to an SEO consulting service, need to dive into the process head on and share responsibility for the outcome.
Develop a team atmosphere where team members are accountable. Make sure the copywriter, webmaster, SEO Specialist, business owner, and web developer perform their digital marketing roles successfully. Realize that even with using the best SEO tools, web page optimization techniques, and web page analysis software you CAN NOT outdo the results that writing excellent website content can achieve – insightful, informative purposeful content resolving SEO queries.
How To Improve Search Engine Ranking With Keyword Topics
The Keyword Grouping and Organizing Process ensures improved organization of content in a hierarchical layout which improves the website's information architecture, making it easier to improve Google search engine rankings.
Taking on page optimization steps along with gaining off page SEO incoming links, is basically a series of incremental content improvement steps that include testing, experimentation, hard work, continued learning, and Google analytics data integration into your plan. Website owners should pay attention to search engine optimization best practices for valuable time-tested knowledge on how to optimize your website in ways that will lead to increased traffic visits.
Improving Search Engine Optimization On-Page Guarantee
The only guaranteed SEO results promised from improving search engine optimization on-page should be in the manner of guaranteeing a search engine friendly website, which is the foundational platform for attaining all future rankings, versus promising #1 Google rankings that are clearly out of your control.
Learn SEO Best Practices for improving search engine optimization on-site, and learn the basics of the multiple Steps in the SEO Process.