How To Measure SEO Performance Metrics
Key Performance Indicators and SEO Benchmarks
Evaluating SEO Marketing Campaigns for ROI
Business owners need to know how to measure SEO performance for dollars invested. You need to measure it to improve it. Earning free organic search engine traffic is an integral productivity component for measuring a successful online marketing strategy.
Tracking and measuring SEO key performance indicators (KPIs), along with knowing the right SEO metrics to measure, helps business owners evaluate the ROI of SEO campaign performance.
Creating an online presence should lead to greater opportunities for new customer engagement. Start by working with a team of digital marketing experts that know how to create online visibility and improve SEO performance for your website. Measuring key data points, collecting diagnostic data, recording website KPIs, and paying attention to web analytics metrics, baselines, and SEO benchmarks, provides the marketing intelligence to improve both On-page, and Off-page SEO metrics.
Website owners wanting to know how to improve SEO should look into free tools such as Google Analytics for measuring key SEO metrics.
Advanced keyword research data analysis can provide important clues with a road map towards how to better organize website content into a hierarchical site structure, which is a difficult concept to convey. Improved website content organization structured from broad to specific systematized into content silos helps Google interpret topical theme coverage.
Google Analytics tracking data is valuable for measuring website, web page, live data metrics measuring real-time traffic engaging a website, and keyword performance reports for key benchmark SEO performance metrics data points. Recording baselines compared with top industry competitors is a first step towards learning how to increase business visibility compared with competitors' website statistics.
At a bare minimum you need to have Google Analytics, Google Search Console, a Google + Personal profile, and a company branded Google My Business Local Places page set up.
SEO Performance Measurement Categories
Document SEO benchmarking measurements over a 3-6 month period of time to gain valuable before-and-after perspective. The three categories for measurements include: Keywords Rankings, Conversions, and overall Marketing Channels Traffic throughput.
The initial SEO consultation and SEO Audit Review collect your beginning SEO benchmark metrics, numerous SEO KPIs and data points, key performance indicators baselines, additional data insights, and data collection and feedback on important indicator of quality components. As mentioned earlier, certain customers may require the installation of Google Analytics and Google Search Console to generate data to benchmark SEO performance accurately.
SEO Key Performance Metrics + SEO Benchmark Metrics
Unique and Returning Website Visitors. Overall website traffic count for visitors leading in from all marketing channels
Click Through Rate. CTR, click through rate percentage from organic search results listings pages
Google My Business Page Performance. Number of monthly impressions for G+ Local page, Google My Business page
Average Google Rankings. Average Google ranking positions found in Google Search Console statistics.
Achieve Increased Search Engine Rankings. Achieve increases in search engine rankings position for primary targeted keywords.
Organic SEO Visits. Percentage of Traffic from Organic Search. Organic search engine traffic monthly trend versus traffic through other marketing channels: Direct Traffic, Referral Traffic or Social Media Traffic, Paid Search Traffic PPC.
Conversion Rate Optimization. Measure the number of customer conversions turning into sales generated as a percentage of all live site visits.
Segmenting Conversion Rates by Source. Call-to-action completions as a percentage of traffic origin or source: Organic Traffic, Referral Traffic, Direct Traffic, Social Media and Paid Search traffic.
Bounce Rate. Document the percentage of how often visitors leave your main website without clicking through to more internal web pages as key behavioral factors.
Session Duration Time. Human sessions Average Duration Time reported in Google Analytics when humans interact with your website
User Engagement. User experience metrics such as Average Duration of time in minutes spent on site, along with how many Average Pages Per Visit
Non-Branded Keyword Rankings. Rankings achieved for non-branded keyword traffic versus branded keyword traffic. Non-branded queries are more difficult and more valuable because visitors are newly discovering your brand.
Website Load Speed Time: What is the website speed load time? 4 seconds load time or less is critical!
Google Indexed Pages: Number of Google indexed pages as reported from Google "Site" operator command
Monthly Site Visits: Number of monthly new and returning site visits coming from all marketing channels
Top 10 Google Page 1 Rankings. How many different pages or posts are attaining first page (ie. Top 10) Google rankings
Inbound Links from Unique Domains. Unique domains linking to your domain, versus multiple links coming from the same domains
Number of Local Business Citations Acquired. Monthly trend for building local search citations and local business listings visibility.
Incoming Links Popularity Count. Total quantity of incoming backlinks pointing to all pages, home page and internal pages
Number of Backlinks Acquired. From how many different unique domains, the diversity of types of links acquired, and anchor text diversity
Google Analytics Page Impressions. Number of total impressions shown in GWT for last 30 days for entire site, or search engine impressions for individual Landing Pages
Google Analytics SEO Queries. Amount of keyword phrases leading to page impressions in Google search results pages
Goal Completions. Expressed as Call-to-Actions completions such as newsletter subscribers or opt-in subscribers achieved.
Keyword Click Throughs. In last 30-days, total number of entire website organic traffic click-throughs earned, and individual targeted keyword click throughs.
Returning Visitors vs. New Visitors. Compare new visitors to returning site unique visitors to identify trends. People returning multiple times is a good leading indicator of quality content
Average Dollar Transaction Amount. Monetary value received per business transaction
Domain Authority. Numerical value of consolidated domain authority measured and reported by Opensiteexplorer.org
Landing Pages Performance. Landing pages sending measurable traffic clicks or click throughs.
Social Media Engagement. Amount of social media shares and human interactions
Hosting Server Uptime Performance. SEOs also pay attention to hosting statistics such as server uptime and downtime
Google Page 1 Search Results. Keyword phrases that consistently achieve Google USA #1 – #10 search engine rankings
All website performance statistics are important. Once a website is earning traffic from multiple sources it's time to have a meeting of the minds to begin seriously tracking and identifying the web statistics most important for increasing sales and achieving specific business goals.registrations as-a-rule can lead to higher domain authority. Domains that are registered for more years without a history of changing domain ownership or spamming behavior have inherent equity value referred to as Domain Authority or Domain Ranking to measure domain authority which are meaningful SEO performance metrics.
Google Analytics Displays Website Performance Metrics
Traffic from Organic Search Engine Optimization, Direct URLs, Website Referrals, Social Media, Paid Search, and Email Openings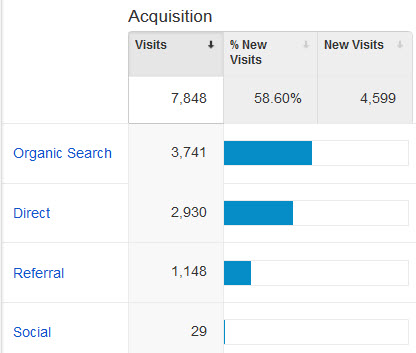 Record Ongoing Data Points
At different steps in creating online visibility, different SEO performance based indicators, techniques, and strategies are higher on the priority list. For example, the first step for new websites is to get all pages indexed in Google's index. Over time, by measuring SEO performance metrics over a six-to-twelve month period paying attention to individual data points, the process becomes more reliable, dependable, predictable, and stable for basing decisions upon. Allow for considerable lag time for Google indexing (eg. 2+ weeks minimum).
Measure the effects of organizing website content better into content silos. For a rule-of-thumb, a website should have roughly 20 pages of organized website content to begin having a chance of surpassing top online competitors for commercially valuable keyword traffic. An SEO-friendly site has broad content supported by multiple, more specific content granular pages or blog posts.
Linking Strategies Help Direct Traffic to Content
Your off-site inbound linking, and on-page internal linking strategy should consist of linking more frequently to the highest priority web content (ie. highest volume keywords and most important web pages) to further momentum.
Identify top Landing Pages. In Google Analytics determine your top Landing Pages deserving of higher traffic and improve that page content quality. Then, promote content further to earn editorial links versus worring about linking to less-important pages (eg. contact us page). Share genuine added-value content in social media that links to landing pages.
Favorite Free Public Baseline-Recording Websites
Go to Alexa.com and record a global traffic rank reading using their web analytics tool. Then conduct a Google operator command for "site" to count the number of indexed Google pages, images, videos, and URLs, then compare that number with the number of pages indexed for online competitors.
The Google Search Operator site command goes like this: site:www.yourwebsitehere.com
Document baseline readings for competitors' leading industry niche websites such as quantifying how many indexed backlinks found at Majestic.com have accumulated compared to your site's backlink profile. Check website load speed at Pingdom.com and compare top competing websites with the open site explorer tool at Moz.com.
Quantify how long your root domain has been registered versus online competitors at Whois.sc. More years of domain registrations as-a-rule can lead to higher domain authority. Domains that are registered for more years without a history of changing domain ownership or spamming behavior have inherant equity value referred to as Domain Authority or Domain Ranking which are meaningful SEO performance metrics.
Measure Website Performance On Topics & Keyword Themes
Your objective is to increase the quantity of search engine hits and actual human site visits and sessions for as many head keywords, keyword phrases, and long tail keywords as possible, for the home page and internal web pages, from as many marketing channels as possible, that will not only earn targeted traffic and clicks but lead to measurable increases in sales or lead generation. Don't merely focus on individual keyword rankings, cover an entire topical theme to earn traffic..
Pay particular attention to reducing bounce rates percentages on key landing pages. The goal is to keep site visitors engaged with your site for longer time intervals.
After keyword "Not Provided" became Google's status quo, SEO campaign effectiveness conversion tracking for individual pages and keyword phrases became more difficult, but can be overcome by an experienced SEO expert.
Don't obsess on one specific keyword ranking achievement which is shortsighted thinking. Create comprehensive content that covers many related topics under the primary keyword theme, and then measure Organic SEO page traffic. A competent organic SEO agency can coach in the areas of setting realistic goals, measuring goal achievement thresholds, and identifying the best website performance metrics for your particular business niche and stage in the SEO process.
Are KPIs Always Important?
Not all web pages have a goal to rank for keywords and convert users into taking call-to-actions. Some pages are strictly published to serve a other purposes, such as Privacy Policy pages, Terms and Conditions pages, Contact Us, etc. Whether it's a web page or a blog post, decide in advance your expectations for the content's value towards keyword performance indicators (kpis), or other purposes. KPIs have goals such as generating incoming links from other websites, or attaining top search engine rankings positions, or user engagement, shares or likes, content amplification, low bounce rate, interaction on blog posts, or people talking about you, your brand, or content.
Write freely and passionately on non-kpi pages to tell your individual story and connect with the reader. On all other pages have goals and try to accomplish at least two or three objectives and SEO kpis on a page or blog post to get more traction out of the content generated. Content is hard! Decide your goals in advance. If it's non-kpi content, consider creating an outline of headings and subheadings prior to starting the writing process.